Mayor of London
Celebrating London's unique diversity and vibrancy
London's diversity is its greatest strength, which is why the Mayor of London, Sadiq Khan and the Greater London Authority issued an open brief to celebrate the capital's diversity, promote mutual respect and foster a sense of belonging for all in the capital.
Our strategy was to make Londoners of all backgrounds visible, celebrating the unique contribution that every one of them makes to the vibrancy and diversity of life in London.
Whilst the media and other campaigns celebrate stories of high-achieving individuals, like pro athletes, performers, and those who change or save lives. Our campaign "London for Everyone" serves as a rallying cry, and a poignant reminder to every Londoner that our collective strength lies in our diversity and that's what makes London truly exceptional.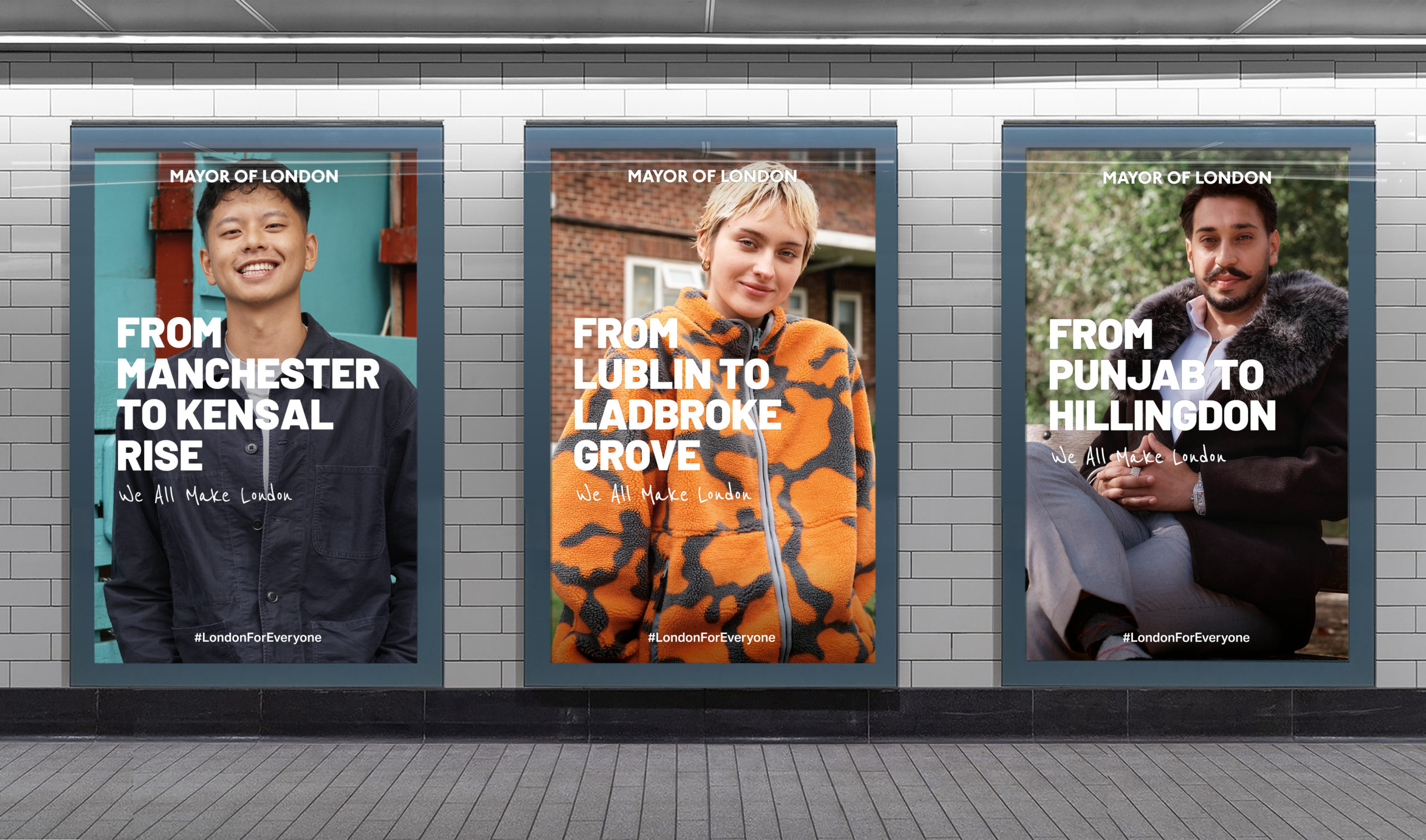 The Mayor of London, Sadiq Khan, said: "London's greatest strength is our diversity and we simply wouldn't be the city we are today without the input, energy and experiences of everyone who lives here.
"We have seen a concerning rise in hate crime across our city and nationwide. In times marred by division and fear, I am committed to seeing Londoners respond with unity and in hope.
"That is why I've increased funding to tackle hate crime in our capital and why I've launched our new 'London for Everyone' campaign. As we strive to build a better, safer and more equal London for everyone it is vital that we stand together and remember that we have far more in common than that which divides us."
In addition to the films, an OOH campaign across TFL and on London's streets showcases vibrant images of everyday people from all different areas of London, along with copy signaling their background and where in London they live, signed off with "We All Make London." 
The roll-out continues across independent cinemas and partnerships with many of London's sport clubs, including Crystal Palace, QPR and Harlequins.
The Elephant Room and City Hall worked closely with different communities in London to help create the authentic campaign that builds up a sense of belonging. The campaign shows that migrants – who make up one in three Londoners – get the chance to thrive, feel welcome and feel valued –  our communities, culture and economy can only benefit.
The Elephant Room's commitment to inclusivity ensured that the production team represented a diverse array of individuals and communities featured in the campaign. The photography, beautifully captured by Serena Brown, an exceptional photographer known for her work that exudes honesty and a sense of community, added a unique touch. Serena herself has a rich heritage of Ghanaian and Scottish roots. Our broader team comprised members with backgrounds spanning India, Nigeria, Germany, China, France, Jamaica, Denmark, and Zimbabwe.